"Thank goodness I found a car accident chiropractic center like FMCC!"
My journey with Fakhoury Medical and Chiropractic Center started in November 2018 when I was hired as a Patient Care Liaison.
This position works hand and hand with auto accident patients to serve as an intermediary between the doctors and patients in facilitating patient care, while interpreting procedures and policies to our patients.
I have worked in the Chiropractic profession for 5 years and understand the importance of getting regular adjustments. However, in less than a week of working for Dr. Fakhoury, I was involved in my own automobile accident.
There was minimal damage to my truck but the car that rear-ended me was totaled.
Learn more about our Ocala injury care.
When I returned to work the next day, I casually mentioned to Dr. Fakhoury that I was only sore and had a headache but I was sure they would go away within a few days.
Even though I felt I had no real injuries, he encouraged me to go through the steps of a full examination and x-rays. To my shock and total surprise, I had several bulging discs in my neck and in my lower back.
Even without having severe pain, I had adjustments 3 times that week. The soreness of the accident went away but my injuries came to the surface.
I began to see how my body had protected itself but did have underlying issues. I have continued with Chiropractic adjustments and consulted with the Medical Doctor on staff to correct my spine.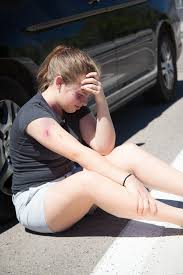 I have been the healthiest I've ever been since being consistent with chiropractic care. I feel great and strong. I have more energy than before. The Fakhoury Medical and Chiropractic Center is your ONE stop office for a car accident chiropractic center.
The only thing I have changed in my weekly routine are my adjustments along with massage therapy which is part of the Chiropractic treatment.
Because of my own experience, a friend of mine in her early twenties was a passenger in a friend's car when they ran a red light and crashed into another vehicle. Both of her knees hit the dash with great force.
She was taken to the local ER where she was given pain medications and sent home to rest. When I saw her knees days later, they were swollen, painful, and bruised.
Because of the 14 day rule, in which you have 14 days to seek medical attention after a motor vehicle accident or forfeit your Personal Injury Protection with your car insurance, I encouraged her to make an appointment with our office to be evaluated.
She was hesitant but made the appointment with me over a text. As one of the patient representatives, we try to make the registration process as easy and convenient as possible with same day appointments.
After her evaluation with us, we sent her for an MRI of both knees due to her pain. The report came back that she had fractures in both knees.
She is healing now with crutches and staying off of them. If it wasn't for Fakhoury Medical and Chiropractic Center, she would be living with pain not knowing of her injuries.
After witnessing myself and the injuries of my dear friend, I am a firm believer that if you've been involved in an accident, even a fender-bender or small crash, it can cause injuries to your spine and soft tissue that you are unaware of.
These injuries can result in chronic pain. Get checked out!! I now believe in our slogan "Car Accident? DON'T WORRY, CALL FAKHOURY" Call us FIRST!!
We are definitely your Car Accident Chiropractic Center!
Find out why we are the best Ocala car accident doctor choice!
Go Home
Check out our auto accident page!