Ocala car accident-My airbags didn't deploy!
Many think that their
airbags
are not functioning properly when they do not deploy upon impact in a motor vehicle accident.
Actually, airbags are designed to deploy only when the impact occurs at 40 mph or greater.
This design is set in place because the deployment of airbags sometimes can produce additional injuries to the occupants of the vehicle. These additional injuries can include fractures of the face and arms, neck trauma, burns to the skin, injuries to the ribs and chest, and internal injuries.
If you're in an Ocala car accident and the speed of the vehicle is less than 40 mph, do not be alarmed if the airbags did not deploy. Your safety belt and shoulder harness are there to protect you from going forward or being ejected out of the car. Unfortunately, quite often, injuries will still be sustained to the neck and low back with these lower impact injuries.
Should your airbag deploy, it is always best that your hands are on either side of the wheel. If you drive with your hand in the center of the wheel or the top of the wheel, deployment of the airbag can push your hand directly into your face causing fractures and injuries.
Remember that airbags deploy at an extremely quick speed. Also do not be alarmed if there is smoke in the car as there will be dust and chemicals released from the airbag that will fill the car with smoke, sometimes burning the skin.
Carefully and calmly try to exit from the car and help others out of the vehicle if you feel that you have not sustained any internal injuries or broken bones.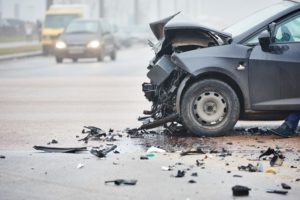 If you're in a car accident in Ocala, Florida, and have sustained injuries, make sure that you follow up with experienced care as soon as possible. If you're concerned of something being broken or bleeding, go immediately to the emergency room.
At the Fakhoury Medical and Chiropractic Center, we are staffed with medical physicians that are experienced in trauma and emergency care available to you usually on the same day.
Fakhoury Medical and Chiropractic Center is a mix of medical and chiropractic physicians, and staff that are experienced in the proper care of trauma and motor vehicle accident injuries.
Read this post on accident injuries.
Each occupant should be evaluated by a physician after an accident whether the damage to the vehicle is minor or major. Many times there are problems underlying that occur after an accident, and if these injuries are not addressed immediately, will cause pain and limitations in the future.
Remember you have only 14 days after a motor vehicle accident to seek care. Failure to report your injuries and receive care within 14 days will result in the loss of your benefits.
Your Ocala Car Accident Solution
The Fakhoury Medical and Chiropractic Center is also fully staffed with an insurance department that accepts all motor vehicle (PIP) Insurance to allow you the immediate care that you need.
If you've been in an Ocala car accident, and feel that your neck or back has been injured and needs attention, contact us at the Fakhoury Medical and Chiropractic Center at 352-350-5555 for immediate attention.
Find out why we are the best choice for an Ocala car accident doctor.
Return Home
Check out our auto accident page!
Drive safely,
Dr. Riadh Fakhoury D.C., D.A.B.C.O.
Board Certified Chiropractic Orthopedist
"Car accident, don't worry call Fakhoury"